PIERERNESTO PAGANI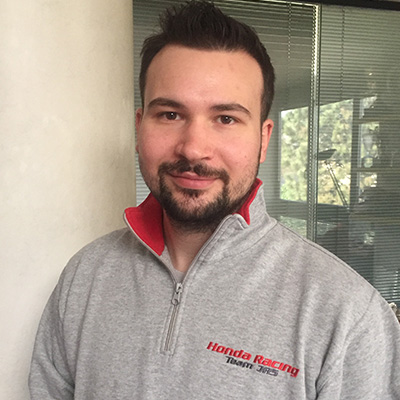 From the day he was born, 15 June 1982, Pier was fascinated by the world of engines, following this passion through to his graduation in Mechanical Engineering at the Politecnico di Milano, specializing in Design. In his early teens he started getting his mechanical touch through the racing of radio controlled, scaled down cars (1/10 and 1/8), and involvements in several Italian RC races as a mechanic.
His adventure with JAS began in 2008, as the Production Manager and Technical Documentation Accountant.
Two years later he transferred to the designing world, following the development of the Civic R3, as well as the Honda FD2 S2000, the Honda Jazz G2, the Honda Spirior S2000 the Honda Civic S2000 WTCC my 2012 and the successor TC1 version alongside of the first (H50) and second (H60) CTCC civic models built since 2014. As design responsible he followed the Civic FK2 TCR (H56), FK7 TCR (H70, 2017) and FL5 TCR (H80, 2023) TCR , Currently he's chief designer of the J.A.S. technical office.
His other passions are customizing cars and bikes. He is also a big fan of animation movies.
Pier's Motto is: "Either you bring us a solution, or you too will be part of the problem."