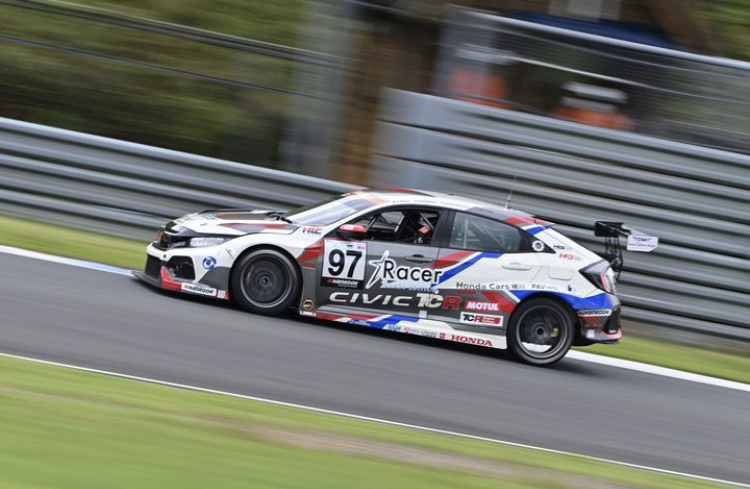 TCR / 28 November 2022
Another dominant victory for the Civic Type R TCR
The 2022 Honda Civic Type R TCR success story continued with the JAS Motorsport-built car scoring its 76th victory of an already record-breaking season as two major championships concluded.
SUPER TAIKYU
M&K Honda Cars Okegawa Racing qualified on pole position at Suzuka thanks to the combined efforts of Shinji Nakano and Mitsuhiro Endo and then scored their first ST-TCR victory of the year with Yusuke Mitsui in the five-hour race.
They lost the lead to the title-winning Team Noah Civic driven by Shigetomo Shimono, Yoshikazu Sobu, Shingo Wada and 'J' within the opening lap and trailed at the one-hour mark.
But a sterling stint by Nakano helped the Okegawa machine establish a one-lap lead by the time the Noah entry was eliminated due to contact between Wada – who was lucky not to flip over – and one of the faster ST-3 class cars at the entry to The Esses.
The result was the 76th win of 2022 for the JAS Motorsport-built Civic Type R TCR and helped M&K to secure the runner-up spot in the points behind Team Noah.
FIA WTCR
Nestor Girolami sealed the runner-up spot in what will be the last season of WTCR competition thanks to a double-points finish at Jeddah, Saudi Arabia.
The ALL-INKL.COM Munnich Motorsport driver started both races from the back of the grid as his car did not have sufficient fuel on board post-qualifying for testing.
A pair of determined performances brought him 10th and eighth-place finishes – the former result thanks to team-mate Esteban Guerrieri allowing him to overtake to secure the point.
Munnich sealed second spot in the Teams' points, equalling the best-ever championship position by a JAS customer team, while Girolami's runner-up position in the Drivers' points matched the result of fellow Argentinan Guerrieri in 2019.
Guerrieri ran second during the opening lap of Race Two, but went off-track as he attempted to take the lead on the second lap, fell to the back of the back and finished 11th – as he had done earlier.
He can take consolation from knowing that his 10 victories since 2018 make him the WTCR's all-time leading race winner, while 22 triumphs make the Civic Type R TCR the most successful model in series history as well.
Liqui Moly Team Engstler's Attila Tassi suffered even worse luck. The Hungarian was on course for victory in Race Two before being punted off the track by a rival; the damage sustained by his Civic leading to his retirement.
Team-mate Tiago Monteiro scored points in the finale with ninth place but neither he nor Tassi – who failed to finish either race – were on the scoresheet in the earlier encouter.