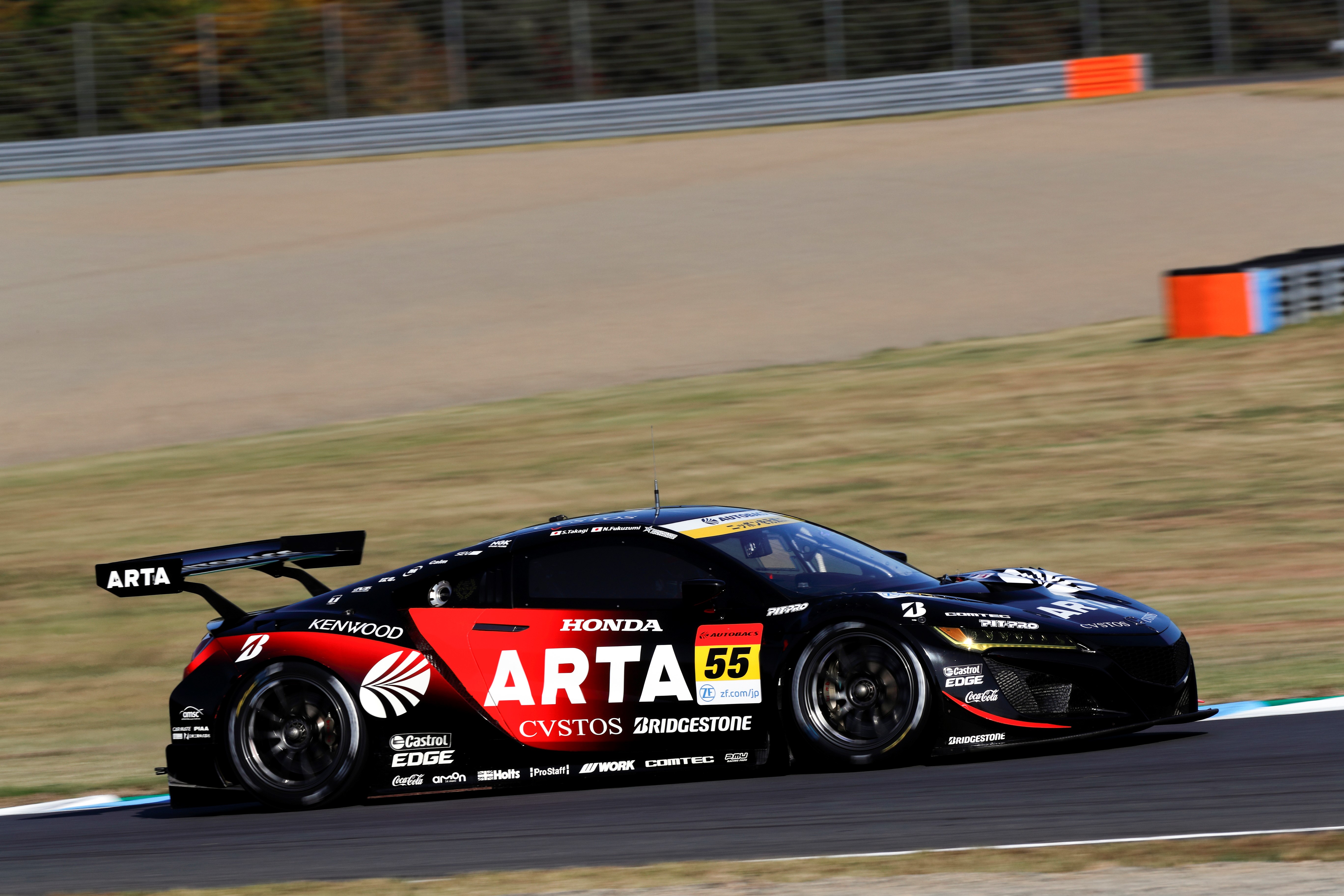 GT3 / 04 November 2019
ARTA win Super GT titles with NSX GT3 Evo
Nirei Fukuzumi and Shinichi Takagi claimed the latest championship for the NSX GT3 Evo as they secured a pair of Super GT GT300 titles in Japan's premier sportscar series.
The ARTA pair arrived at the season finale at Twin Ring Motegi as part of a four-way fight for the title, but knowing that fourth place would be enough to clinch the crown for the car, which is assembled at JAS Motorsport.
Starting fifth, Takagi climbed to third before pitting for the mandatory driver changes at one-third distance.
Fukuzumi then drove a solid stint to finish fourth, which was comfortably enough to secure the first GT300 title for a Honda crew since 2013 and to add the Teams' Championship for ARTA; the eighth major title won by the NSX GT3 Evo in its first season of competition.
Takashi Kobayashi and Kosuke Matsuura were 19th for Team UPGARAGE while Drago Corse's Ryo Michigami/Hiroki Otsu were 24th.
Two NSX GT3 Evos took part in the inaugural FIA Motorsport Games at Vallelunga, Italy; both fielded by Reno Racing.
Team Hong Kong pair Paul Ip and Marchy Lee made a determined charge to sixth place in the GT Cup main race, despite having started from the pitlane.
On a damp track and with rain threatening, the team gambled on starting the race on wet tyres, which were of equal performance to the slicks used by most others for the first 20 minutes of the one-hour race.
But with heavy rain beginning to fall just as the pit window opened, and most of the field pitting for wets immediately, the car's progress continued.
Eleventh after the stops had been completed, Lee climbed to sixth and would have gone higher had a late incident not forced the race to finish behind the safety car.
The second car of Team Denmark, was driven by Blancpain GT Sports Club Champion Jens Moller and two-time IMSA GTD title-winner Christina Nielsen.
The pair finished second in Saturday's opening heat after a sensational late-race charge from Nielsen on a damp, but drying, circuit.
Overtaking four cars in two laps put her into the lead briefly, but second remained a strong finish.
Starting 20th in Heat 2, Nielsen made excellent early progress, which was continued by Jens when he assumed driving duties as he climbed to eighth; a result that would have put the car on the front row for the final.
Instead, he was hit by a rival and into another car; sustaining engine damage that left the car unable to start the medal race.
All five cars were competing as part of the NSX GT3 Customer Racing Programme; a global collaborative project with JAS Motorsport responsible for assembly of all cars.

Honda Performance Development (HPD) and M-TEC handle sales and technical support in North America and Japan respectively, with JAS responsible for these areas across the rest of the world.