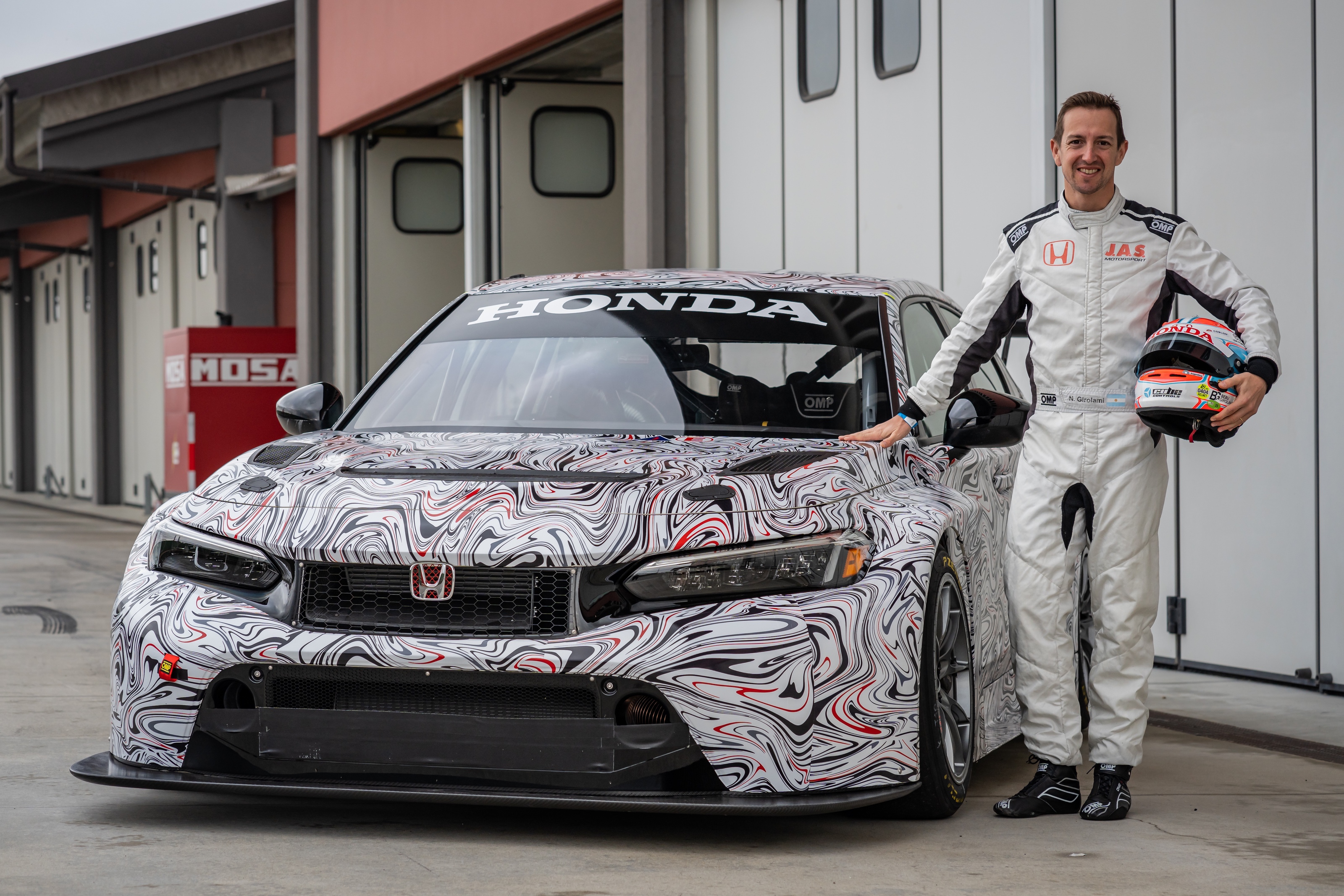 TCR / 13 December 2022
Honda Racing Driver Nestor Girolami comments on the all-new Honda Civic Type R TCR
The all-new Honda Civic Type R TCR, the racing car that will take the Japanese manufacturer into a new era of touring-car racing, was launched to global interest on Monday.
The car, which has been designed and built by Honda technical partner JAS Motorsport, made its track debut at Cervesina, Italy, last week in the hands of the experienced Argentinian driver Nestor Girolami.
Girolami, a Honda Racing Driver since 2019 and an 11-time race winner with the FK7 Civic Type R TCR across a variety of series, has given his initial thoughts on the latest version, based on the FL5 production model, which is set for its race debut in April next year.
What were your first impressions when you sat in the car at Cervesina for shakedown?
NG: "The first big difference was the cockpit. You feel much more comfortable with the seating position, which is adjustable like in a GT3 car, and the level of technology at your fingertips feels two steps ahead of the car I've been racing for the past few seasons. You sit closer to the centre of the car and lower too so it's better for the weight distribution and because you sit lower, you feel what the car is doing through your body much more than in the old car."
What was the initial driving experience?
NG: "It's quite a bit easier to drive on the limit than the old car. It's smoother all-round and you don't have to fight as much to get a really fantastic lap. Drivers who are new to TCR should find it quite a bit easier to find the limit, but the best drivers should still be able to make a key difference."
Where are the key developments from a driver's point of view?
NG: "The old Honda was very good in medium-speed corners like you get at the Hungaroring, but on the new car the wheelbase is longer, so the handling is much improved in higher-speed corners and the stability is better under braking. Because the steering has been modified quite significantly, it's more reactive on turn-in too, so you get the best of both worlds. Because the wheel is open at the top, you can't cross your hands over in a really tight corner like the Melco hairpin at Macau, so the new steering system is a big help. It should make the car very strong on street circuits and in countries like Denmark and Sweden where the tracks are short and have some very tight corners."
How much testing has been done so far?
NG: "Just two days at Cervesina, but it's felt very promising. The engine ran strongly with no reliability issues and the car feels two steps forwards in every area. It's a brand-new car and we still have a lot of work to do with the testing programme before it races, but it's been a very encouraging start. The target is to make this car the global leader in TCR competition in 2023 and I feel very proud to have been chosen for these first tests by JAS Motorsport as we all work together to help their customer teams achieve this."