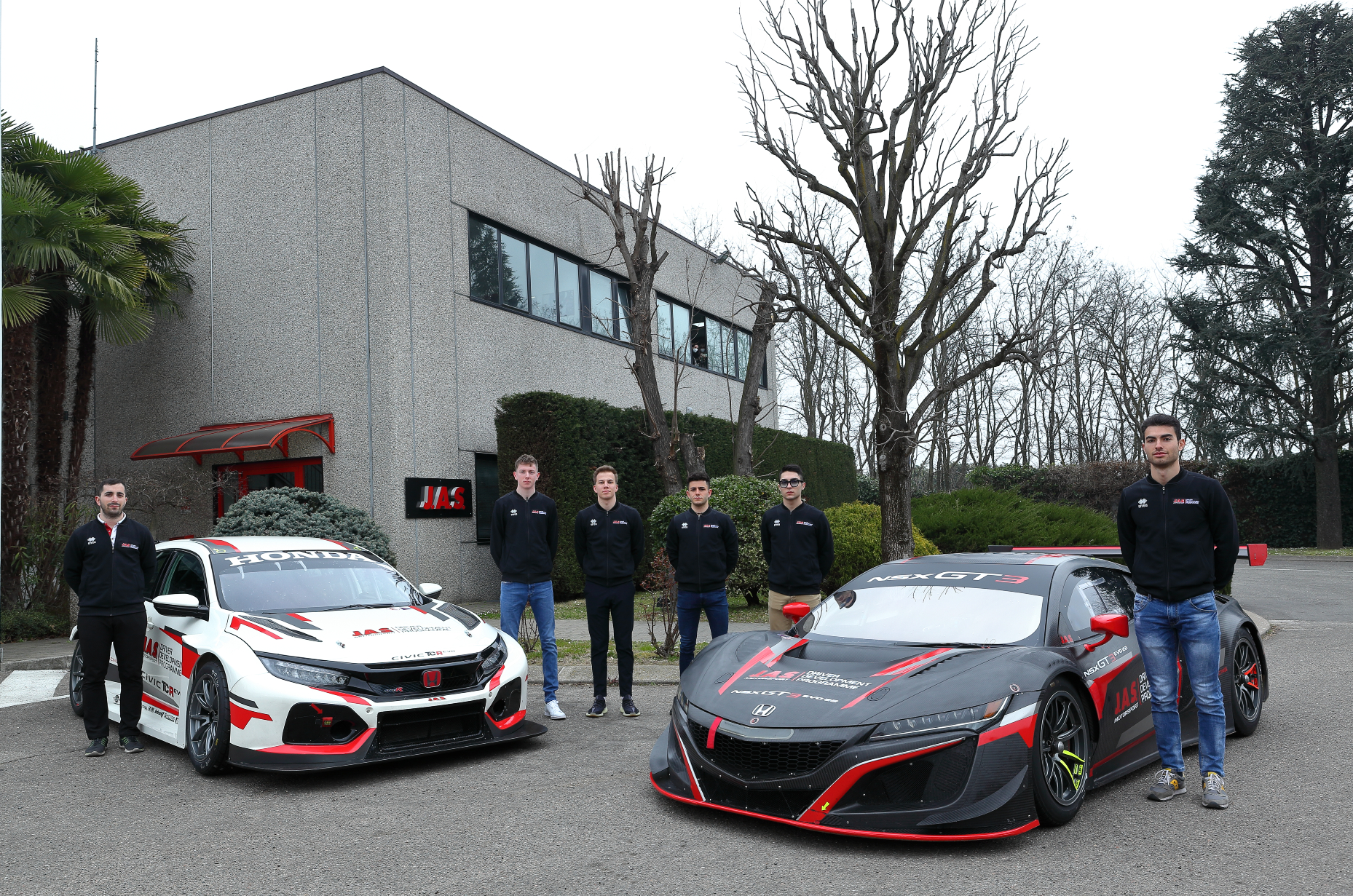 General / 18 March 2022
JAS Motorsport Driver Development Programme members revealed for 2022
JAS Motorsport is delighted to reveal the six drivers that will join the Italian organisation's Driver Development Programme (DDP) in 2022.
Following the success of the Programme and its members last year, the DDP expands to a six-driver line-up; each one racing either the Honda Civic Type R TCR or NSX GT3 Evo 22 in a high-profile series in Europe.
Jacopo Guidetti, Mattias Vahtel and Jack Young enter their second year as JAS Development Drivers following impressive 2021 campaigns. They are joined by new members Marco Iannotta, Leonardo Moncini and Ruben Volt.
Officially launched in 2020, the DDP is a comprehensive package aimed at preparing the next generation of young racers for the rigours and challenges of life as a professional competitor.
The programme focuses on developing each driver's on- and off-track skills in a variety of areas with expertise and coaching provided by JAS Motorsport's team of technicians and managers plus experienced drivers from within the Honda Racing family and new DDP Head Driver Coach and Programme Co-ordinator, Edoardo Liberati.
Areas of focus include disciplines such as managing tyres and fuel, pitstop training, optimising compromised set-ups for co-drivers, effective engineer and team communication, using data to impact car behaviour and working with customer teams.
Here are the cars that each JAS Development Driver will race in high-profile series in Europe in 2022.
Year 2
Jacopo Guidetti - Honda NSX GT3 Evo 22
Mattias Vahtel - Honda Civic Type R TCR
Jack Young - Honda Civic Type R TCR
Year 1
Marco Iannotta - Honda Civic Type R TCR with MM Motorsport in TCR Italy
Leonardo Moncini - Honda NSX GT3 Evo 22
Ruben Volt - Honda Civic Type R TCR
For more information about the JAS Motorsport Driver Development Programme, please visit the DDP section here on the JAS Motorsport website.
2022 JAS Motorsport Development Drivers
(Year 2)
Jacopo Guidetti (19, Italy) enters another year as a JAS Motorsport Development Driver. The 2019 Coppa Italia Turismo title winner impressed in his maiden season at the wheel of the NSX GT3 Evo in 2021, taking the car's first Italian GT Championship win for Nova Race at Imola and finishing third in the Pro-Am Sprint and Am Endurance standings. He added podium finishes in both the International GT Open and the Thai Super Series.
Mattias Vahtel (19, Estonia) is another second-year JAS Motorsport Development Driver. Already a podium finisher in both TCR Iberico (where he was part of ALM Honda Racing's Teams' title-winning line-up in 2019) and the Baltic Touring Car Championship, he moved into TCR Italy in 2021 and was a podium finisher on unfamiliar circuits on his way to ninth in the standings, fourth in the junior standings and third in the Michelin Cup.
Jack Young (20, UK), the 2019 Clio Cup UK Champion, became a JAS Motorsport Development Driver last year. A maiden TCR podium finish and under-25s class win came in a one-off appearance in an MM Motorsport Civic Type R TCR at Misano in TCR Italy while in TCR Europe with Brutal Fish Racing Team he finished on the podium three times and set a maiden pole position on his way to 10th in the points. He was also third in the Junior Trophy with four class wins.
(Year 1 drivers)
Marco Iannotta (24, Italy) claimed both the Italian title and the International Grand Final in the Easykart 125cc division, leading to a car racing debut in the Cayman GT4 Trophy in 2016 and part-season campaigns in Mini Challenge Lites, each of which netted regular podiums. Three end-of-season outings in a Honda Civic Type R TCR with MM Motorsport in TCR Italy last year brought an under-25s podium at Imola. He contests a full season with MM in 2022.
Leonardo Moncini (18, Italy) showed immense potential in his maiden season of car racing in the Carrera Cup Italy last year. Prior to that he had shone in karting. His father Emanuele was a mainstay of GT racing in Italy in the 1990s and 2000s and an Italian GT Champion. Title success is something Leonardo will attempt to match as he races the Honda NSX GT3 Evo 22 this year.
Ruben Volt (16, Estonia) is no stranger to the Honda Civic Type R TCR, having raced it to Michelin Cup success in TCR Italy last year - his first season out of karting! He was also second in the under-25 standings - missing the podium just twice all season - and a hugely impressive sixth in the overall points with two rostrum finishes. All this, and he's still only 16 years old!
Reactions
Jacopo Guidetti said: "Being part of the JAS Motorsport family since late 2020 has been a very big help to my racing career, so I'm very happy to remain as a Development Driver for this year as I prepare for another season racing the NSX GT3 Evo 22. You learn so much about yourself both with your driving and the way you do things off-track, and if you absorb it all, you can be given some incredible opportunities, like I have been. It's a real pleasure to have the support of JAS Motorsport. It really does feel like a family; both with the team itself and with my fellow Development Drivers. I can't wait to get started."
Mattias Vahtel said: "I'm very pleased to spend a second year as a JAS Motorsport Development Driver. Being part of the programme last year helped me a lot with my confidence - particularly by being part of a group of guys all of similar ages, who were all trying to achieve the same thing. We helped to push each other harder in every area and I think we all benefited from that. Being able to learn from experienced professional drivers helped me so much with set-up information that's really helped my race pace. For 2022 I want to continue to develop myself in all areas and challenge for the title in the series I'll race in."
Jack Young said: "Being a JAS Motorsport Development Driver was a huge benefit to me last year, so it's great to be able to take what I've learnt and put it into practice this year, and to continue to learn and develop with the experts here at the team. The biggest gains I made last year were in keeping calm behind the wheel throughout a race distance and in my overall fitness, which was a huge help when we had weekends when the weather conditions were very hot. The atmosphere's been fantastic and there's certainly been a friendly rivalry because everybody wants to be the best at everything - even when we do push-ups in the gym - but that's healthy competition. This will all help as I push to do the very best that I can in 2022."
Marco Iannotta said: "I'm very happy to join the JAS Driver Development Programme. It's my first experience as a driver for an organisation like JAS, which has achieved so much success in motorsport internationally, and very exciting for me. At 24 I'm a bit older than the other DDP drivers, but I've never done a full season in racing since I graduated from karting, so we all have a very similar level of experience. I'm sure I'll be a much-improved driver on the track and off it by the end of the year because the team at JAS has so much experience to share, and I can't wait to just get started and learn as much as I can."
Leonardo Moncini said: "To be a JAS Motorsport Development Driver this year is very exciting because It's a new adventure and one that's coming in only my second season of car racing. JAS is a very important constructor so to be involved with them is, I'm sure, going to be a very big help to me in my career. I want to use all the expert advice that I'll get on the programme to improve myself in every area I can, because being a professional racer is about a lot more than just driving a car; you need to know the right things to do out of it too. I'm confident the things I learn will help this season racing the NSX GT3 Evo 22 to be a very good one."
Ruben Volt said: "Becoming a JAS Motorsport Development Driver is a very big opportunity for me and a chance to learn everything I can from some of the most experienced people in touring car and GT racing in Europe. Of course I'm the youngest driver in the programme, but I've never seen that as a negative. No matter how old or how experienced you are, you can always improve yourself and that's what I want to achieve, so I'm a stronger driver in the car and out of it. The targets for the season are firstly to bring my qualifying potential up to the same level as my race pace, and to score my first overall win in a TCR race. I think both are very achievable with the support of the team here at JAS."
Riccardo Incarbone, JAS Motorsport Driver Development Programme Manager, said: "The level of success achieved on-track by our Development Drivers in 2021 was exactly as we had hoped for, but the DDP is about so much more than that. It's about a 360-degree education that covers every possible skill you need to become a career professional - including many things most people don't realise the importance of. For 2022 we have the opportunity to help our three returning Development Drivers continue the great work they put in last year, while the three new programme members will have the chance to benefit hugely from the structures and teaching we've put in place and take their next step towards becoming professional racers."