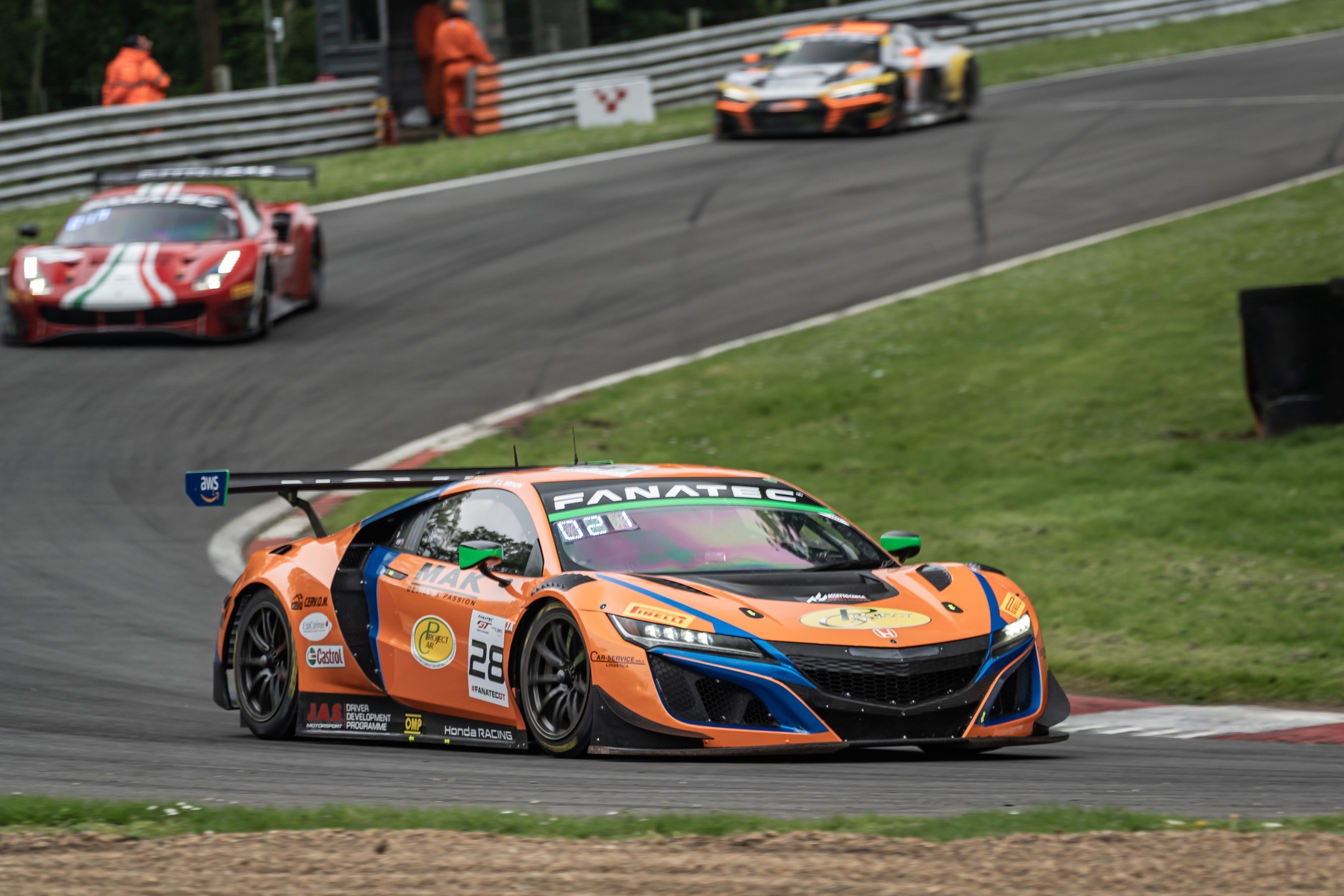 GT3 / 15 May 2023
NSX GT3 Evo 22 on GT World Challenge Europe podium
JAS Motorsport Development Driver Leonardo Moncini and programme graduate Jacopo Guidetti gave the NSX GT3 Evo 22 a podium finish on its debut in the GT World Challenge Europe Sprint Cup.
There were also points for Gradient Racing as the IMSA Series continued in North America.
GT World Challenge Europe
Leonardo Moncini and Jacopo Guidetti have stepped up to the series after winning last year's Italian GT Sprint title and remain with Nova Race for their first year of European competition.
Moncini qualified third in the Silver Cup at Brands Hatch and ran there until his mandatory pitstop half-way through the hour-long race. Guidetti took over and moved into second by the flag; the pair taking the outstanding result on their first time at the British circuit.
They were fifth in Race Two having climbed from Guidetti's seventh place in qualifying.
Erwin Zanotti had been running inside the top five on Saturday in the sister car, but was turned around in the pitlane by a rival car as he attempted to stop in front of his garage and lost more than a minute as the team corrected the car's position.
While he and Diego di Fabio were an unrepresentative eighth, the car that caused the incident was given a grid penalty for Sunday. Zanotti and di Fabio finished seventh in Race Two.
IMSA Weathertech Sportscar Championship
Gradient Racing spent most of the opening practice session at the top of the timesheets thanks to Katherine Legge's efforts, but their raceday was a disaster.
Starting driver Sheena Monk was turned around just six corners into the race and suffered left-rear suspension damage that required the Acura to be taken behind the wall.
It re-emerged, 22 laps behind and finished 13th.
All three cars were competing as part of the NSX GT3 Customer Racing Programme; a global collaborative project with JAS Motorsport responsible for assembly of all cars.

Honda Performance Development (HPD) and M-TEC handle sales and technical support in North America and Japan respectively, with JAS responsible for these areas across the rest of the world.