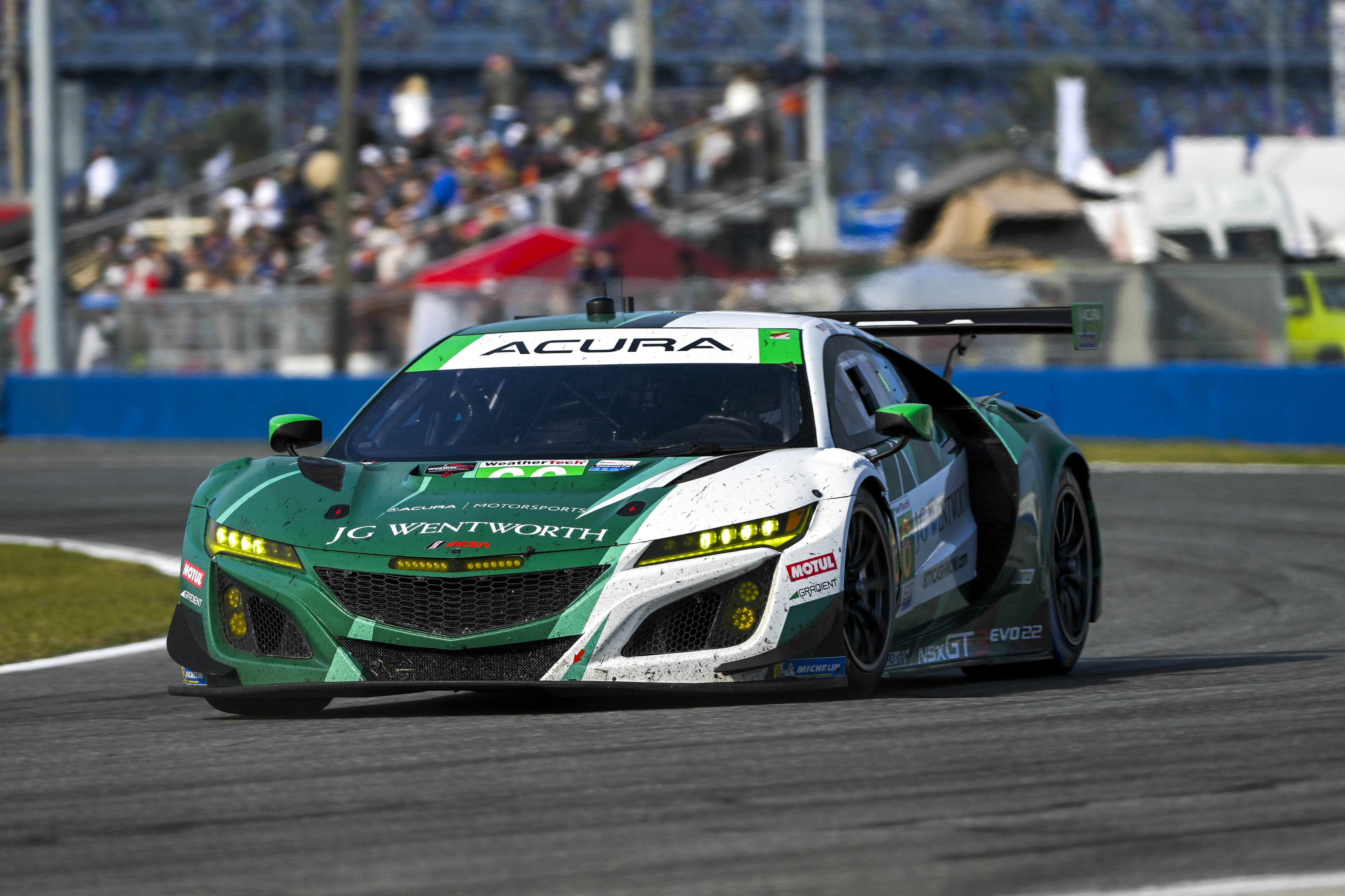 GT3 / 30 January 2023
Two NSX GT3 Evo 22s in top six at Daytona 24 Hours
Two NSX GT3 Evo 22s finished in the top six as the IMSA WeatherTech Sportscar Championship began its new season with its longest event, the Daytona 24 Hours.
Both Gradient Racing and the new collaboration of Racers Edge Motorsports with WTR Andretti put on strong displays to prove the endurance-racing capabilities of the JAS Motorsport-built GT race car.
Gradient's story was one of recovery; the team dropping one and then two laps behind the leaders due to having made green-flag pitstops just moments before Full-Course Yellow (FCY) periods that allowed others to lose vastly less time while stationary.
But outstanding driving by GT3 debutant Sheena Monk, Marc Miller, Katherine Legge - the first driver to win a race in an NSX GT3 in 2017 - and two-time series champion Mario Farnbacher kept them on the precipice in case circumstances turned.
Such a turn happened with two hours to go; a FCY finally falling in Farnbacher's favour. And another with 90 minutes left allowed him back onto the lead lap for the first time since Saturday afternoon.
From there he charged from seventh to fourth in the final 30 minutes, sealing an excellent result for the team from Texas.
The Racers Edge Car, by contrast, was a front-runner throughout after Kyle Marcelli had qualified fourth in class; exiting the first round of pitstops as the leader with Ashton Harrison at the wheel.
Harrison and Marcelli; both former Pro-Am Champions in the GT World Challenge America with the NSX, and their co-drivers Danny Formal and Ryan Briscoe, were in imperious form all race long and were never outside the top eight after the 12th hour.
Frustratingly, the team were denied a shot at the win just 10 minutes from home when Marcelli slowed from fourth place pitted. He emerged sixth, where he finished.
Both cars were competing as part of the NSX GT3 Customer Racing Programme; a global collaborative project with JAS Motorsport responsible for assembly of all cars.

Honda Performance Development (HPD) and M-TEC handle sales and technical support in North America and Japan respectively, with JAS responsible for these areas across the rest of the world.