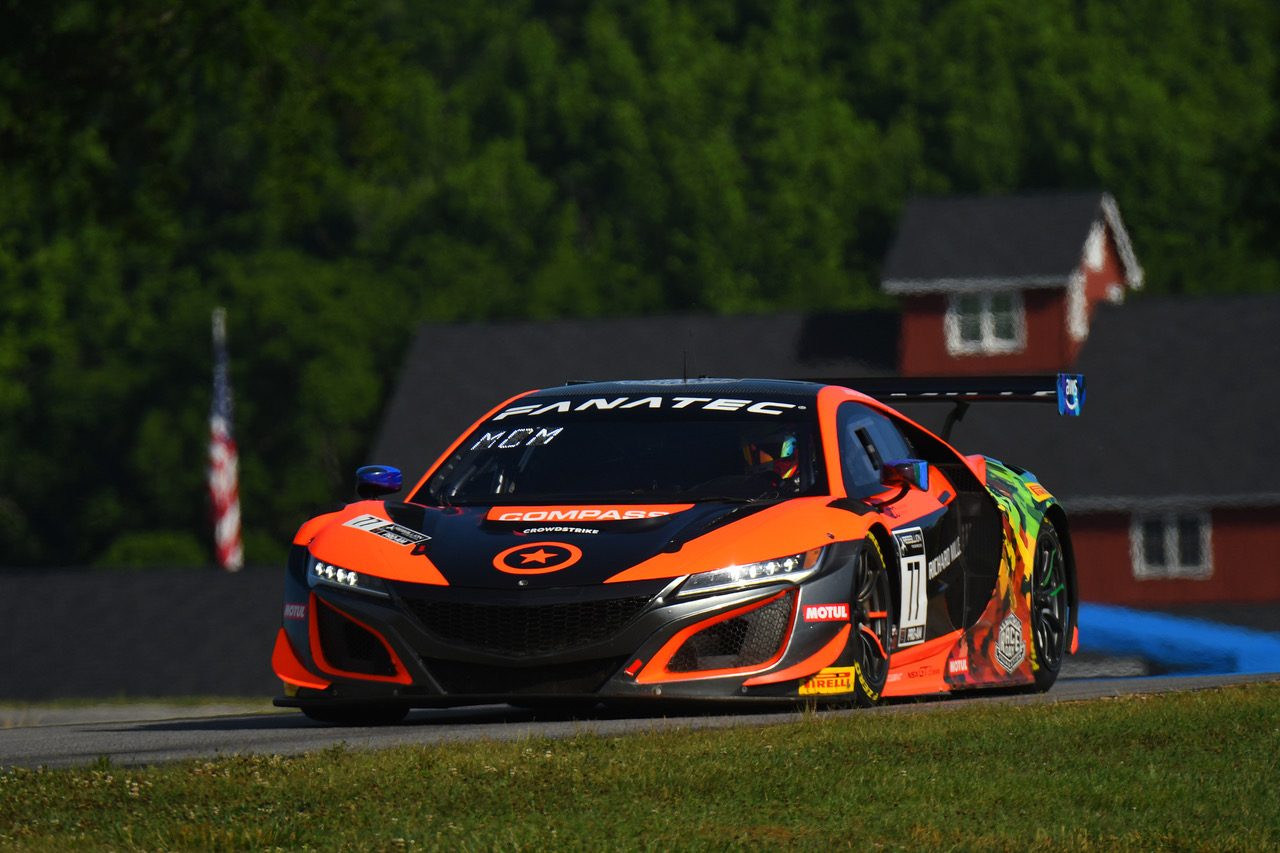 GT3 / 13 June 2021
Virginia Victory for NSX GT3 Evo and Compass Racing
Compass Racing scored their first victory with the NSX GT3 Evo by triumphing in the pro-am division of the GT World Challenge America at Virginia International Raceway on Sunday.
Racers Edge Motorsport made it a superb double-podium for the JAS Motorsport-built car while Nova Race also picked up a trio of rostrum finishes in the Italian GT Championship.
GT World Challenge America Compass Racing played a starring role in Sunday's closing race; reigning IMSA GTD Champion Matt McMurry carefully picking his way through the field from sixth on the pro-am grid to reach the mandatory driver changes in fourth.
Slick pitwork ensured that McMurry's new co-driver Michael Di Meo emerged in third, and he spent the next half-hour hunting two the two cars ahead of him, eventually hitting the front with 10 of the 90 minutes left and speeding off to victory. Racers Edge Motorsport's performance was equally spectacular.
A puncture for Jacob Abel forced the youngster into the pits early on and dropped him to the back of the pro-am pack. But he and co-driver Taylor Hagler belied their lack of experience of GT3 machinery to carve through the field and finish third; equalling Hagler's best result to date and putting Abel on the podium for the first time.
Abel and Hagler finished sixth in Race One with McMurry and Di Meo eighth after an early spin for the latter, who had qualified an impressive second. Hagler and McMurry - the only members of their teams to have contested every race this year - are now fourth and seventh in the points. Racers Edge are third in the Teams' standings with Compass sixth.
Italian GT Championship JAS Motorsport Development Drivers Jacopo Guidetti and Erwin Zanotti continued their rookie seasons at Misano; each continuing to impress with their speed and racecraft while learning the nuances of the NSX GT3 Evo.
Monza polesitter Guidetti qualified second in pro-am and ran there throughout a safety car-affected opening stint in Race One. His Nova Race co-driver Francesco de Luca initially lost ground after taking over, but showed tenacity at a late restart to move from fifth to third and secure a podium spot.
De Luca reached the Race-Two driver change third in class as light rain gradually intensified during his stint. Guidetti was unlucky to be caught on-track on slicks when a downpour became a deluge, spinning out shortly after taking over the car.
The sister car was taken to a double podium in the Am class by Zanotti and new co-driver Jorge Cabezas. The pair combined to finish third on Saturday in the dry and looked set for a repeat result in the wet 24 hours later until an ambitious move from Zanotti just three minutes from the end promoted the pair to second. Zanotti is second in the Am section of the Sprint Cup - which he is contesting - with Cabezas seventh.
Guidetti and de Luca are fourth in Pro-Am with Honda fourth in the Constructors' Championship. All four cars were competing as part of the NSX GT3 Customer Racing Programme; a global collaborative project with JAS Motorsport responsible for assembly of all cars.
Honda Performance Development (HPD) and M-TEC handle sales and technical support in North America and Japan respectively, with JAS responsible for these areas across the rest of the world.